We like to be different and to think out-of-the-box; and we like to develop concepts others have not thought of.
Now we have new things, too, on our minds, you will hear about them soon...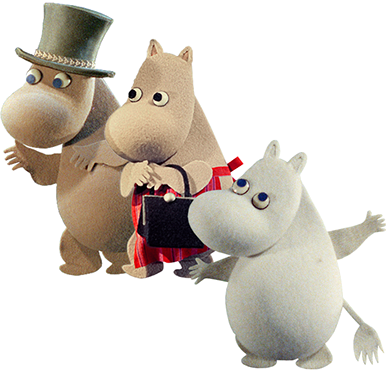 The result so far: a 78 part TV-series in HD and two movies. The latter movie "Moomins and the Comet Chase" was the first Scandinavian 3D-movie with talents like Björk (title song), Max von Sydow, Alexander Skarsgård, Mads Mikkelsen, Stellan Skarsgård, and Peter Stormare in the voice cast. In distribution in over 80 countries including USA, UK, France, Japan, China, Brazil, Australia.
Among the firsts, already in 2007, we started to restore and develop the Finnish heritage Brand "The Moomins" -footage, a real vintage-collection with zestful, high-profile, and elegant looks, which we highly improved from the original produced by the Oscar winning studio Se-Ma-For back in the 1970ies.